Monthly Scribbles: February
7:00:00 PM
It seems like we were just ringing in the new year, and now we're staring into the cold abyss of March. I fell off the blogging bandwagon a bit in the new year, so this is the first monthly faves I've been able to put together. I loved a lot of things in January and February, so let's get into it!
Most Read?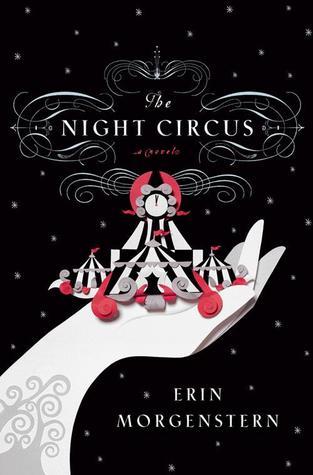 Without a doubt, my favorite read from the month of January was
The Night Circus
by Erin Morgenstern. It was absolutely enchanting and beautiful and so much more than I ever expected. I definitely recommend checking this one out.
In February, I became obsessed with a (new to me) dystopian series by the name of
Legend
. I had been told how amazing it was, and I had been told my life would be destroyed by reading this series, and those people weren't wrong. I read and listened (depending on what version my library had available) to all three books in as many days, and when I was done I kinda didn't know what to do with myself.
Most Watched?
If you don't follow Emery Lord on Twitter, you need to. She shares all kinds of things - her thoughts on writing, empowerment, and her favorite shows being just a few. She's also freaking hilarious. I mentioned The Great British Bake Off in my December favorites, which was a recommendation based on her tweets, and although I had heard of Miss Fisher's Murder Mysteries before, it was again, her constant recommendation of this show that finally got me to seek it out on Netflix. I only stopped watching long enough to wonder
why I hadn't watched this show sooner
. It's
so
good.
I had heard only positive things about Poldark's single season (so far) and knew that I wanted to check it out sooner than later. So, when I unexpectedly ended up with a trial of Amazon Prime this month, this was one of the first shows I decided to check out. The weather conspired in my favor and we ended up with a snow day, which let me finish all eight episodes (they're each an hour long) in what essentially became a three day weekend. I was
obsessed
, and I can't wait for the new season!
HONORABLE MENTION: Suits isn't new OR new to me, but I recently fell back into it and ended up watching all of Seasons 4 and 5 in about a week. I'd forgotten how great this show could be, and I really liked the direction they were taking each of the characters in recent episodes as they explored the conflicts between what each person wanted and what they needed.
Most Worn?
For a long time, I kind of thought micellar waters were a hack. I mean, if I wanted to use soap and water to remove my makeup, I would. I didn't see what was so special about them. Then someone recommended the Garnier Micellar water and I decided to give it a shot. I was stunned. Not only did it do a great job of removing my makeup, but it didn't irritate my eyes at all, and my skin
loves
the stuff.
It's not a monthly favorites without mention of a new nail polish. In February I was particularly impressed by Wet n Wild's 1 Step Wonder Gel, which promises the wear of a gel polish without the lamp. To no one's surprise, I got a rosy, taupe-y color called Stay Classy, and while I can't speak to the other colors in the collection (and there are a ton) this one wears absolutely beautifully. It makes it about a full week on me, which is pretty much unheard of.
Most Heard?
I mentioned the Hamilton Original Broadway Cast Recording in my December Monthly Scribbles, and I'm mentioning it again for January because there's no way around it - I listened to this nonstop for weeks. Pretty much every time I was in my car, I was singing along to this.
February's most heard is definitely
Sounds Like Me
by Sara Bareilles. I listened to this audiobook twice, back to back, it was that good. I'm in the process of writing up my thoughts on this one, so keep your eyes out for that! It's one of my favorite books of the year so far.
Most Heart?
I'm a little embarrassed to talk about this, but not for the reasons you might think. As I mentioned earlier, I became a little obsessed with the Hamilton Broadway Cast Recording, and when I found out it was based on a biography of the man himself, well, I had to have it. I joined up with a bunch of other readers and bloggers who were equally excited and intimidated by the prospect of reading this monstrosity, and it's called #HamAlong. I was chugging along, enjoying the book, and having a ton of fun chatting with others and putting together the weekly blog posts, when suddenly...I just stopped. I got behind in the reading and found it really difficult to catch up. And so, my plan to be a "legitimate" reader of a serious biography was shot to hell. I'm planning on finishing this (even if it kills me) but I might be putting it off for a few months, until I have more time for reading.
Pay no attention to the book you see before you (I haven't read a page of it yet). Instead, I'm drawing your attention to the device. In February, I made a late night purchase (the best kind) of a Kindle Fire. It was something I'd been eyeing and although I knew I didn't need it, I wanted it. Since it was only $50, I decided to go for it. I'm really loving it. I have access to all my Kindle and Nook books - my previous e-reader having seen much better days - and I can also check Twitter and play Sims, which is unnecessary, but totally fun.
Most Magical?
My magical moment (a la leighannsays) for the month of January sounds so cliche, but I really couldn't think of a better way of putting it. I
tried
. My magical moment was a fresh start. Not necessarily because we rang in a new year, but because of the shift that happened in my work life. I'd been trying not to let my work influence my whole life, but the stress I was under last year was really affecting everything. The changes that occurred really felt like a fresh start, and I've felt considerably less stressed the last few months, which has made me feel like I can breathe again.
My magical moment for the month of February is actually a couple of things, but I think they fall under the umbrella of magical blogging moments, so I'll allow it. A few months ago, I signed up to be a part of Nori @ ReadWriteLove28 and Sophi @ Bookwyrming Thoughts'
Novel Newcomers
series. They interviewed me (and several other newbie bloggers) and it was an exciting way to get more involved in the blogging community. The second moment came when I spontaneously joined a chat (#YAPirateShip) and got to be silly and bookish with some lovely people on Twitter. Not only did I get to meet some new peeps (one of my blogger goals for the year), but I also won a set of YA novels from author Lisa Maxwell. I'm most excited to read her newest,
Unhooked
, a Peter Pan adaptation, but the other two (historical fiction novels) seem up my alley as well.
I hope you enjoyed my massive January/February literary and life favorites list! Let me know what kinds of things (bookish or otherwise) you've been loving lately down below!