#WeekofReviews // Bone Gap
9:00:00 AM
It's day two of #WeekofReviews, and I'm talking about a very special book today. Psst. If you want to know more about the reviewathon, check it out
here
and
here
!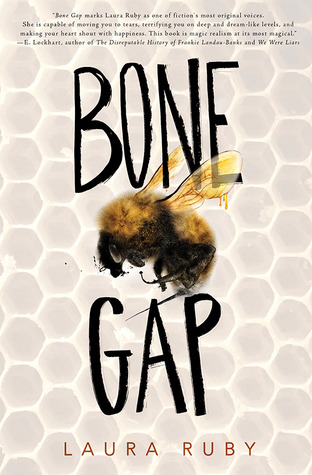 Someone I follow on Twitter recently asked for magical realism recommendations, and I (along with a several others) shouted
Bone Gap
with much enthusiasm.
It's a book that I have heard tragically few people talk about, which I find surprising considering it's YA lit and a recent National Book Award Finalist. There are a few reasons for this, I think - the biggest one being that the synopsis doesn't make this book sound like anything to write home about:
Everyone knows Bone Gap is full of gaps—gaps to trip you up, gaps to slide through so you can disappear forever. So when young, beautiful Roza went missing, the people of Bone Gap weren't surprised. After all, it wasn't the first time that someone had slipped away and left Finn and Sean O'Sullivan on their own. Just a few years before, their mother had high-tailed it to Oregon for a brand new guy, a brand new life. That's just how things go, the people said. Who are you going to blame?
Finn knows that's not what happened with Roza. He knows she was kidnapped, ripped from the cornfields by a dangerous man whose face he cannot remember. But the searches turned up nothing, and no one believes him anymore. Not even Sean, who has more reason to find Roza than anyone, and every reason to blame Finn for letting her go.
As we follow the stories of Finn, Roza, and the people of Bone Gap—their melancholy pasts, their terrifying presents, their uncertain futures—acclaimed author Laura Ruby weaves a heartbreaking tale of love and loss, magic and mystery, regret and forgiveness—a story about how the face the world sees is never the sum of who we are. - via Goodreads
People who pick this up expecting only what the synopsis suggests might find it to be a little stranger than they expected, but I think that
Bone Gap
's strangeness is exactly what makes it work. There's a vague, hazy quality to this story. It's dreamlike and fantastical, mysterious and magical, and not at all what I expected.
I picked this audiobook up on a whim and was drawn in by the beautiful and stark storytelling of someone whose narrative voice reminded me of how keenly I felt
everything
when I was that age. I am sometimes distracted by changes in storytellers, but because of the nature of audiobooks, I didn't mind those shifts and even enjoyed examining different facets of the same stone.
Speaking of the audiobook, I very much enjoyed this one. The narrator does a fantastic job giving voices to each of the characters - one character in particular literally gave me chills every time he spoke. I love when audiobooks enhance the story rather than distracting from it! I was also thrilled by the inclusion of Polish characters - characters whose voices and traditions reminded me of my family in a way that I rarely see represented in literature (unless it's about the Holocaust). The representation is flawed, but it's there. And I'm excited about it.
This book, in all it's weirdness and wonderfulness, is able to tell a compelling story from multiple perspectives while also exploring ideas of perception and identity and how they are tied to mythology and fairytales. This book gives readers just enough to keep them going without laying everything out for us to see and understand - and I like it that way. This book wouldn't be as special without that little bit of uncertainty and mystery.
Bone Gap
is complex in a way I find few standalone YA novels to be - in concept, characterization, and world building - and while it is, in some ways, definitely a young adult novel, it's one I wouldn't hesitate to recommend it to all readers. There's just something about it that makes me want to read it and reread it and share it with others.