Book Talk: My Lady Jane
9:00:00 AM
My love for historical fiction dates back to my elementary school days. I'm serious! It began with a fateful Scholastic book fair: I was drawn in by a diary of Elizabeth I, and in that moment, my love for all things historical, fictional, and English was born. So imagine my excitement when the internet recently exploded about a book on Jane Grey! So many people told me I would love it, but I was anxious that I'd feel let down. Instead, when I finally sat down to read it, I was besotted.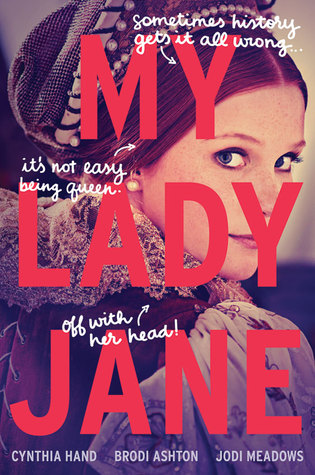 Goodreads synopsis: The comical, fantastical, romantical, (not) entirely true story of Lady Jane Grey. In
My Lady Jane
, coauthors Cynthia Hand, Brodi Ashton, and Jodi Meadows have created a one-of-a-kind fantasy in the tradition of
The Princess Bride
, featuring a reluctant king, an even more reluctant queen, a noble steed, and only a passing resemblance to actual history—because sometimes history needs a little help. At sixteen, Lady Jane Grey is about to be married off to a stranger and caught up in a conspiracy to rob her cousin, King Edward, of his throne. But those trifling problems aren't for Jane to worry about. Jane gets to be Queen of England.
There are
so
many reasons to enjoy this novel. As I shrieked about it loudly and with much enthusiasm, I called it smart, funny, supernatural, historical, and feminist. It's that and more. It's sweet, and silly, and it's got a great cast of characters. It's based on historical events, but as anyone who's familiar with the Tudors will know, their stories are as crazy a plot as any an author could come up with. And the references! There are so many literary easter eggs to be found. The book is pushing 500 pages, which might make some readers blanche, but it's doesn't
feel
lengthy. It feels right. And in the end, I loved that these authors were able to build a better story for Jane and Gifford than they ever had in real life.
I love historical fiction because it is incredibly humanizing. It brings dimension to events that are often presented in a way that is dry and emotionless (I also think this is a big part of why Hamilton is so successful). Books like
My Lady Jane
work like a bridge between fiction and nonfiction, making history more engaging and approachable, and I love that in a book, particularly if it's marketed for young adults. I also think this book serves as a gateway to fantasy for those that aren't sure how they feel about the genre, since the fantasy elements are part of the plot but don't entirely dominate it.
My Lady Jane
has been compared to Monty Python and
The Princess Bride
, and I do think that is has a very particular kind of comedic flair. It reminded me, in the best way possible, of Gail Carriger's
Soulless
series, which up until now, has been pretty singular in my mind.
Soulless
is a wonderfully whimsical take on historical, supernatural fiction, and until I read
My Lady Jane
, I hadn't experienced anything like it. That being said, I can see how that particular style or combination might not work for everyone, so keep that in mind. Still, I understand why so many people starting (lovingly) shoving this book at others. It's refreshing to read something that's both vaguely familiar and yet totally different from what you expected. I'm excited to see what these authors come up with next.