Book Talk: Reader, I Married Him
9:00:00 AM
I've been bullet journaling for several months now, and my favorite collection in my journal is a list of books I want to check out - Reader, I Married Him was one of them. A collection of stories, by ladies, inspired by Jane Eyre? I was in. Until I wasn't.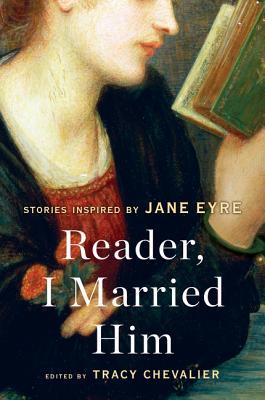 Goodreads synopsis: This collection of original stories by today's finest women writers—including Tracy Chevalier, Francine Prose, Elizabeth McCracken, Tessa Hadley, Audrey Niffenegger, and more—takes inspiration from a line in Charlotte Brontë's most beloved novel, Jane Eyre.
A fixture in the literary canon, Charlotte Brontë is revered by readers all over the world. Her novels featuring unforgettable, strong heroines still resonate with millions today. And who could forget one of literature's best-known lines: "Reader, I married him" from her classic novel Jane Eyre?
Part of a remarkable family that produced three acclaimed female writers at a time in 19th-century Britain when few women wrote, and fewer were published, Brontë has become a great source of inspiration to writers, especially women, ever since. Now in
Reader, I Married Him
, twenty of today's most celebrated women authors have spun original stories, using the opening line from Jane Eyre as a springboard for their own flights of imagination.
This collection felt pretty lackluster to me. I was expecting
Jane Eyre
, but what I got was only vaguely reminiscent of the original story. As it turns out, the stories are inspired by
Jane Eyre
, but based on the line - yep, you guessed it - that gives the collection it's name. As a result, the stories are extremely marriage centric. Some are inspired by the novel's events or it's gothic vibes, but by and large, the authors of the stories focused on the element of marriage above all else. That's fine, but marriage isn't what I think about when I think about
Jane Eyre,
so it was a bit surprising and disappointing to feel that disconnect. To give you an idea of how I felt about the collection, I'll give you a breakdown of the stories:
My Mother's Wedding by Tessa Hadley
-Definitely gothic, although I didn't see the
Jane Eyre
inspiration all that much. Maybe I need a reread? A daughter narrates the impending marriage of her mother but with super cult-y, creepy overtones. There's a big plot twist at the end that made things weird.
Luxury Hour by Sarah Hall
-About aging. The narrator reflects on her chosen path but ends up questioning those choices when she crosses paths with an old lover. As you might imagine, things are a little awkward.
Grace Poole - Her Testimony by Helen Dunmore
-Finally, some
Jane Eyre
. This one turns the story on it's head with an alternate POV - Grace Poole tells her side of the story. She's got some strong feelings about good two shoes Jane, and shows a great deal of compassion for the madwoman in the attic. There's a twist about her and Rochester that left me reeling and pulled focus from other elements of the story.
Dangerous Dog by Kirsty Gunn
-A woman takes a writing class, rescues a dog from a pack of cruel teenagers. The dog is named Rochester. Is it symbolic? I might have missed something.
To Hold by Joanna Briscoe
-Dark and twisty with a manipulative narrator (my favorite kind). She marries many times for many reasons, all of which help give you a better understanding of this woman. The twist at the end had me flipping back to reread things from a new perspective.
It's a Man's Life, Ladies by Jane Gardam
-I skimmed this one. This story about a granddaughter remembering her grandmother was like unravelling a thread - I thought it was going somewhere - but nothing happened.
Since I First Saw Your Face by Emma Donoghue
-Two women meet and fall in love at a convalescent home. One of them is married. There was no real conclusion, which was disappointing, but since it was evidently based on real events, I suppose that makes sense.
Reader, I Married Him by Susan Hill
-All about obsessive love. An American falls in love with an Englishman who abdicates his throne to be with her.
The Mirror by Francine Prose
-This was was a mind trip but not in the way intended. When are we? Where are we? This pulls from the characters and plot of
Jane Eyre
but the mentions of modernity kept distracting from the story. Also, bizarrely hilarious to read as Rochester tries to explain that it was not his mad wife, but a parrot that Jane heard in the attic. Yep.
A Migrating Bird by Elif Shafak
-An Islamic college student develops feelings for a Christian man studying abroad. Interesting exploration of cultural dynamics and the gendered double standard.
I read two more stories after that, but I didn't take any notes for those and I don't remember enough to tell you about them. I didn't end up finishing this collection of short stories. Taken at face value, the stories are okay, but I didn't find the majority of them to be very compelling, and it was hard to accept that what I had been promised wasn't what I got. There just wasn't enough of a connection to
Jane Eyre
for these stories to be marketed in the way they were. If you're looking for a collection of stories about love, relationships, and marriage, you've found it. But if you're looking for a collection of stories about
Jane Eyre
, you'll have to keep looking.